Roofing Services and Products
At ABOVE IT ALL ROOFING In Ontario, we believe quality materials result in a quality roof that will stand the test of time . A quality roofing system includes underlayment, shingles, accessory products, and ventilation all working in tandem together. Day after day, year after year.
All of the roofing products we use are designed to provide optimum performance — no matter how bad the weather conditions are. After all, better quality shingles mean a longer lasting roof. Add in underlayment and accessory products, and you've got a roof system that really works. When you choose ABOVE IT ALL ROOFING contractor you gain the advantage of having a manufacturing source to stand behind its roof system components. If different brands of products are installed on your roof, then you do not gain the full value of a complete roof system.

When shopping for a new roof, look no further than ABOVE IT ALL ROOFING. We are committed to providing you with the highest standards of quality and workmanship.  Customer satisfaction is always our top priority. What sets us apart, is we install a complete roofing system that includes: ventilation, underlayment, drip edge, high quality metal vents, and the highest quality shingles on the market. All new roof installations include a SureStart™ shingles warranty (some conditions apply).
Certainteed SureStart™ Warranty covers the early, vital years with complete coverage to provide you with long term peace of mind. The warranty covers 100% of materials, 100% of labour, and does not prorate the cost. This is unique to other warranties on the market. To find out more about the Certainteed SureStart™ Warranty, click here.
Our roof repairs include a complete and thorough assessment to a damaged roof and surrounding areas. Our services include repairs to:
Missing or damaged shingles
Skylight repairs
Eavestroughs and downspouts
Siding repairs
Soffit
Cedar issues
Ice dams
Chimney repairs
Roof drainage issues
Roof deck repairs
Roof flashing/penetration
We also repair damage caused by:
At ABOVE IT ALL ROOFING, we believe in protecting the longevity of your investment so that your roof stands the test of time. With a roof tune-up, we will inspect your roof for potential issues and provide a written report recommending appropriate action if required. We inspect both newer and older roofs.
A roof tune-up service includes:
Clean up debris and leaves off the edges of your roof
Caulking, sealing and nailing down flashings and vents
Replace and secure missing or loose shingles, ridge and hip caps
Check valleys for potential issues
Clean and seal eaves troughs as needed
Check chimney flashings
Secure loose or high nails
Check for blocked downspouts
Check and inspect skylights if applicable
Perform complete roof inspection
Add natural light and improve energy efficiency with a new skylight from Above It All Roofing. Skylights are a great addition to any home. 
Are you looking to add natural light to your home? If so, new skylights are a great option for you!
We can provide you with the perfect skylight to fit your needs and match any room in your house. We install quality skylights that will improve your rooms with a more open feel and the lighting in your home . 
This is a metal flashing that goes at the edge of a roof.  The purpose of a flashing is to direct water into the eaves trough. This prevents the fascia from rotting and the shingles from bending and cracking. It also prevents water from penetrating through the soffits and entering your home.
 WINTERGUARD – This is an underlayment designed to prevent ice dams from forming and backing up under the shingles. It is usually used in vulnerable and high water concentration areas.
DIAMOND DECK – This is a synthetic underlayment which covers the entire roof surface. This layer is a barrier underneath the shingles to stop any moisture from penetrating through the shingles.
ROOFRUNNER – This is a synthetic polymer-based underlayment that outperforms all other synthetics on the market.  Designed for roof decks as a water-resistant layer under asphalt shingles.
CertainTeed roofing products are manufactured to the highest quality standards.  Offering a broad range of colour and style choices to enhance the appearance of your home. CertainTeed also provides the additional assurance of a Surestart Warranty which provides the strongest protection for your roof.
"SwiftStart" Starter shingles are designed to work with CertainTeed shingles.  Once sealed, starter shingles decrease the chance of shingles blowing off your roof.
Designed to work with different types of Certainteed shingles. They help prevent 'blow offs' in critical areas along with enhancing the look of your home.
Roofs need a constant exchange of air flow to prevent moisture build up in the attic and extend the life of your roof.  When hot moist air remains trapped in the attic, it can cause mould.  It can also cause the shingles to warp and decrease the life of the shingles.  Attics have to be adequately vented to provide even air flow.
Metal pre-painted valleys are the best choice for a valley installation.  All valleys are installed over a row of winterguard.  This prevents damage to the roof deck from condensation and potential ice-backup.
These allow outside air to enter into the attic and ventilation spaces.  Heat escapes from your home into the attic during the winter months.  This can lead to the formation of ice-dams and mould.  Proper venting eliminates the hot zones in the attic.  In the summer months, venting forces hot air out of the home removing moisture and protecting the longevity of the shingles.
Attics are not designed to have hot moist air circulating from bathroom fans, kitchen exhausts and clothes dryers. These items have to be vented directly outside using insulated piping and proper damper vents.  Metal vents are the best option as they are a higher quality product.  Not only will they enhance the look of your home, but they will not warp overtime due to exposure to the elements.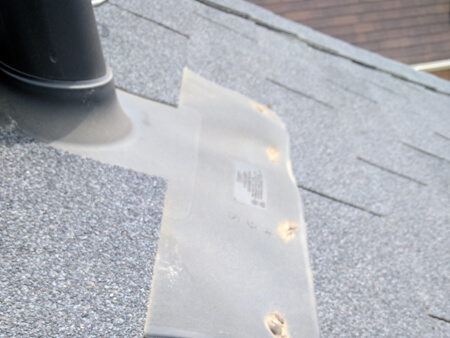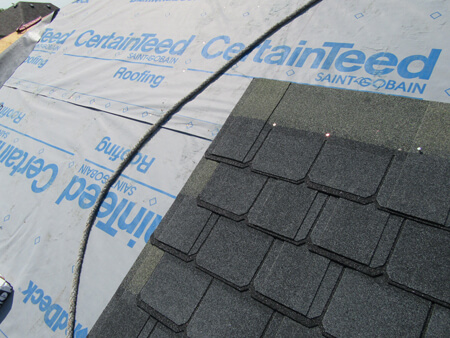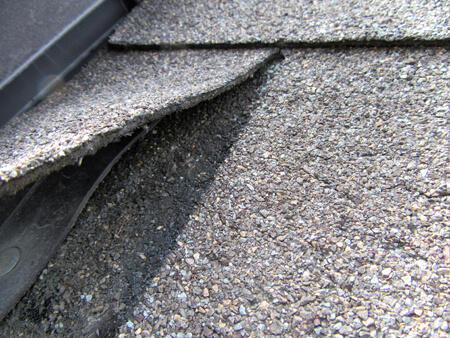 We Raise Above Them All - Custom Quality Roofing Services