Best Roofing Oakville Company
Backed by the Best Roofing Products and Warranty in the Industry
Licensed Oakville Roofing Contractors
At Above It All Roofing, we understand how important protecting your roofing system and property's exterior is. As such, we offer a comprehensive list of roofing services for our Oakville clients, from eavestrough and gutter installation to cleaning, repairs, and complete new roofs. We are the perfect choice when you need an experienced and professional roofing company in Oakville for any service, whether that be repair work or the total installation of a brand-new roof.
We pride ourselves on delivering superior quality results each time, and our team is more than happy to provide a free consultation before every job.
We have over 25 years of experience repairing and replacing roofs in Georgetown, Acton, Milton, Oakville, Burlington, Mississauga, Caledon and Etobicoke. For a free consultation, contact us today!
Services in Oakvile:
Request a Free Roofing Estimate
Workmanship Warranty on Every Job
Oakville homeowners have trusted us for many years regarding roofing work. We understand that our customers want the assurance that our work is of the highest quality, and we are proud to offer a workmanship warranty to ensure that they receive the best value for their money. With any roofing project, we always use top-of-the-line materials and components, so you can rest assured knowing you are getting the best product available. 
If you're unsure which option best suits your new installation job, our experienced roofing technicians are always happy to help and advise what roofing material is ideal for your budget and needs. We will go over all of your options with you so that together we can make a decision that's right for you.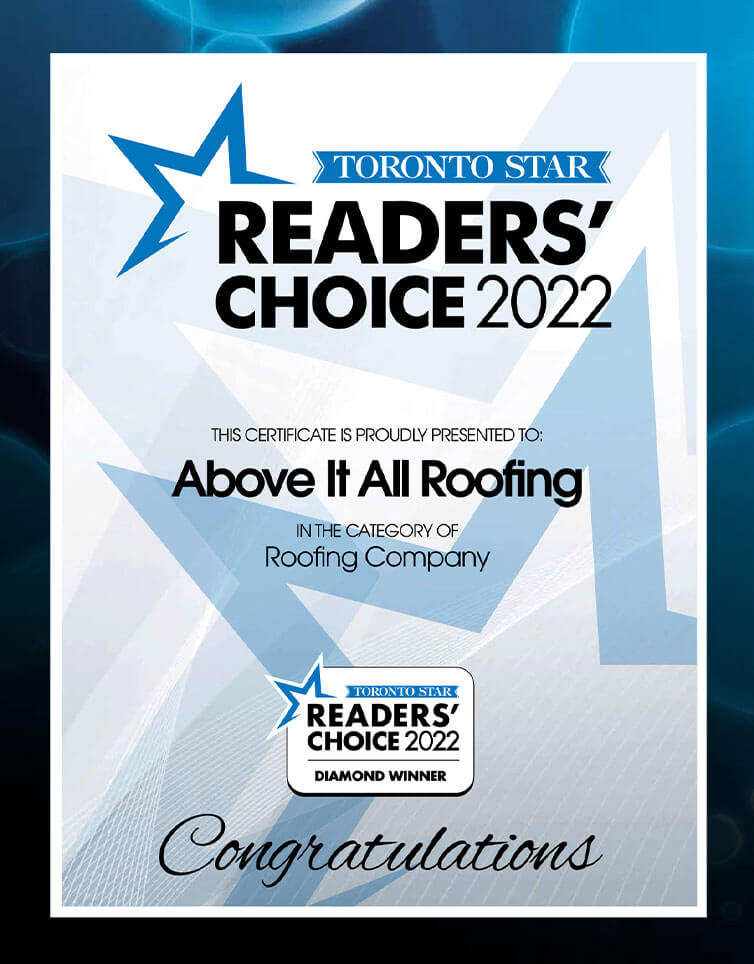 Neighborhood Favorites Oakville Roofing Company
Above It All Roofing is the premier source for full-service roofing and home maintenance in Oakville, Ontario. With over 25 years of experience, we have become the trusted name in roofing and home maintenance services for our clients across the region. Our team goes above and beyond to provide exceptional customer service and quality workmanship that lasts many years.
Our experienced staff has the expertise to handle roofing needs, from small residential roofing repairs to large commercial installations. We use only the best materials available so you can be sure your roof will last for decades. Our value-added services include free estimates, professional advice on selecting shingle styles and colors, comprehensive warranties, and 24/7 emergency roof repair services.
Here at Above it All Roofing, we are committed to providing superior service tailored to each customer's needs. Our roofing company understands that roof damage can be a major inconvenience and expense, so our roofing company strives to complete jobs quickly while maintaining high standards of excellence. We take pride in our customer service approach, offering flexible payment plans and competitive rates with no hidden fees or surprises.
Our reputation speaks for itself – Above It All Roofing has been providing best services since 1996 with an impeccable record of safety, quality assurance, timeliness, and customer satisfaction that sets us apart from other companies in the area. If you are looking for reliable roofing contractors in Oakville, look no further than Above It All Roofing!
Oakville Experienced Roofers
Above It All Roofing is a team of passionate roofing specialists who are committed to providing unparalleled service and workmanship. We utilize the best equipment and materials in the industry to offer inventive and personalized solutions that cater to our clients' unique needs. Get to know our welcoming and personable experts better by checking out our team profiles. Contact us today to see how we can assist you with your roofing needs.
Safety
We take safety very seriously and have developed strict policies and procedures to protect our workers and the public. Our goal is to provide our customers with the highest level of safety and peace of mind by prioritizing safety in everything we do.
Certifications
We are proud to hold several safety certifications, including the critical Occupational Health and Safety (OH&S) certification for anyone working in the roofing industry. Our certifications demonstrate our commitment to safety and compliance with industry standards and regulations. By displaying our certifications on our website, we aim to build trust with potential customers and showcase our expertise in this important area.
Training programs
We believe that regular safety training is critical for our team's development. That's why we provide comprehensive safety training programs covering a range of topics, including hazard recognition, fall protection, and emergency response. Our team members are trained to identify potential safety hazards and take appropriate measures to prevent accidents. By highlighting our safety training programs on our website, we aim to demonstrate our commitment to safety and showcase our team's expertise.
Equipment safety
We understand that equipment safety is crucial to the success of any roofing project. That's why we use only the highest quality equipment that meets or exceeds industry safety standards. We also perform regular maintenance checks to ensure that our equipment is always in good working order. By showcasing the safety features and certifications of our equipment on our website, we aim to demonstrate our commitment to safety and provide our customers with peace of mind.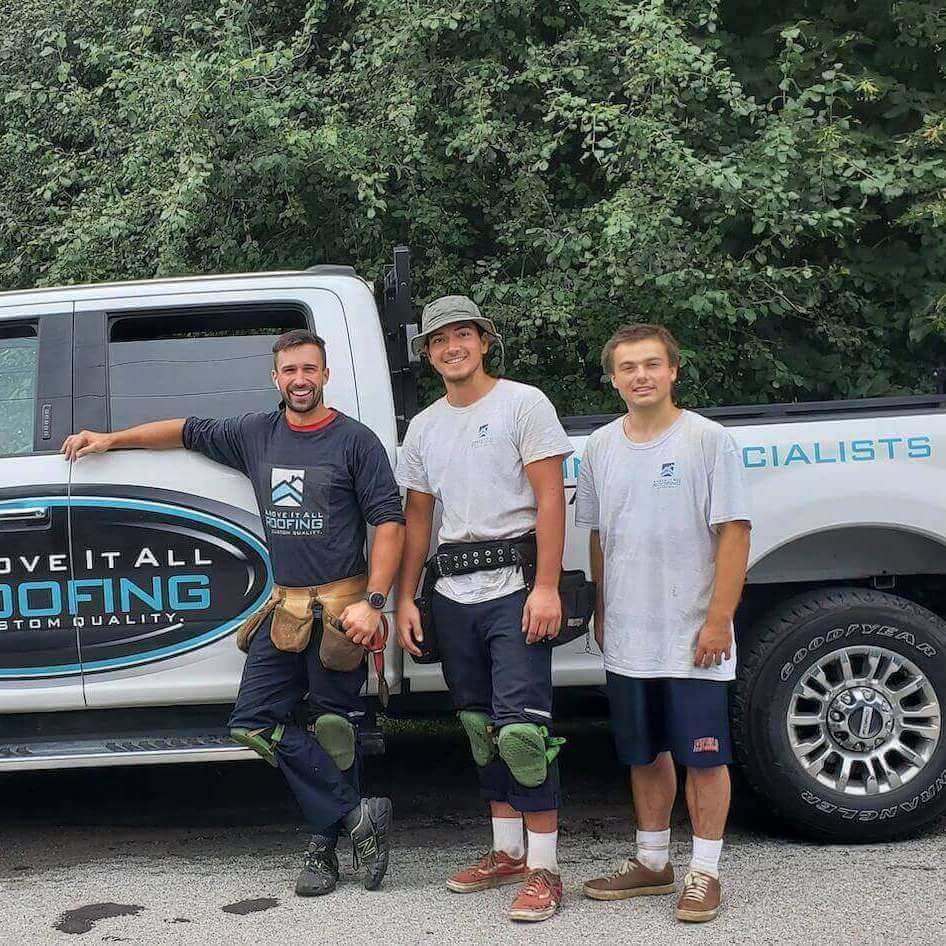 Oakville Roofing Services
In Oakville, Above It All Roofing is the professional roofing services you can count on. We provide a wide range of roofing services, from repairs to installations, so you can rest assured that your roofing needs will be taken care of. We have the experience and expertise to get the job done right, and we always put our customers first.
If you need roofing specialists in Oakville, don't hesitate to call Above It All Roofing. We'll be happy to help you get your roof back in great shape
Our roofing process is carefully crafted to ensure exceptional results on every job. We follow a detailed process to install or repair your roof, including:
Inspection
We start with a comprehensive inspection of your roof to evaluate its current condition and identify any areas that require attention.
Assessment
Based on our inspection, we assess the necessary repairs and provide you with a detailed description. We verify the date and time of repair and assign a dedicated roofing project manager to oversee the job.
Preparation
Next, we prepare your roof for installation or repair by removing old materials, fixing any damaged areas, and installing new underlayment.
Installation
Our team installs your new roofing system using high-quality materials that meet industry standards, such as shingles, tiles, or other roofing materials. We focus on durability and longevity to ensure your roof lasts for many years to come.
Cleanup
Once the installation is complete, we conduct a thorough cleanup of the job site and remove any debris or materials used during the process.
Inspection and follow-up
After the job is complete, we conduct a final inspection to ensure that the work was done to the highest standards. We also offer follow-up services to address any issues that may arise after the job is complete.
Throughout the roofing process, we prioritize attention to detail and quality workmanship. We are dedicated to providing exceptional service and ensuring customer satisfaction.
If you need a new roof, we offer customized solutions to fit your specific requirements. Our unwavering commitment to exceptional service and workmanship ensures that your new roof will be reliable and long-lasting.
Whether it's for your home or business, we offer a range of roofing systems, including asphalt shingles, metal roofs, and flat roofs, to meet your unique needs. Our team of experts will help you select the best option for your property and provide a seamless new roof installation that will last for years to come.
Maintaining your roof's condition is crucial to extending its lifespan. Our professionals provide comprehensive tune-up services, including inspection, cleaning, and necessary repairs, to ensure that your roof remains in excellent condition.
If your roof experiences damage, our experienced roofers can help you restore it to its optimal condition. We specialize in repairing all types of roof damage, including leaks, punctures, and other issues, with quality workmanship and fast turnaround time.
Proper gutter maintenance is essential to keeping your roof healthy and stable. Our team provides thorough gutter cleaning services, inspecting and cleaning your gutters to identify and address potential issues that could cause damage to your roof.
To save money on energy bills and maintain a comfortable indoor environment, proper attic insulation is crucial. Our team provides top-quality insulation materials and installs them with precision and care to enhance your property's energy efficiency.
Oakville Roofing Contractors Near You
At Above It All Roofing in Oakville, we strive to provide our clients with the highest quality roofing services. Our experienced team members have vast knowledge, allowing them to deliver superior results in all projects. With us, you can be sure your roof will be properly installed with attention to detail and craftsmanship.
Unlike other local roofers in Oakville, Above It All Roofing offers affordability and convenience without sacrificing quality or customer satisfaction. We offer competitive pricing and flexible scheduling options so our customers can get exactly what they need without breaking the bank. 
Most importantly, Above It All Roofing provides personalized service from start to finish. Our knowledgeable staff members are available throughout the process to answer any questions and help guide you through making decisions regarding your new roof. 
What types of roofing materials does Above It All Roofing use?
Above It All Roofing uses various roofing materials, including asphalt shingles, metal roofing, flat roofing, and cedar shakes. We will work with you to determine the best material for your needs and budget.
How long does a typical roof installation take?
The length of time for a proper roof installation can vary depending on the size and complexity of the roofing project. However, on average, a residential roof installation takes 1-2 weeks.
Does Above It All Roofing offer any warranties on their work?
Above It All Roofing is licensed and insured to ensure your project is done right. Our team is experienced in residential and commercial roof projects, and we pride ourselves on providing superior quality workmanship and top notch service every time. We use only premium-grade materials to ensure years of reliable service on each job, that's why our clients call us the best roofing company in Oakville.
What services does Above It All Roofing offer?
Above It All Roofing is a contractor company specializing in residential and commercial roofing services. This includes new roof installations, repairs, maintenance, and emergency roofing services.
Are the roofers at Above It All Roofing licensed and insured?
Yes, all our roofers are fully licensed and insured to ensure our customer's and their properties' safety and protection.
How can Above It All Roofing help me?
Above it All Roofing is here to help if you have any roofing needs. We offer many services, including assessment and repair recommendations for current roofs and installation and replacement services for both residential and commercial. Apart from our specialty in shingle roofs, we are experts in metal or flat roof installations. Whatever the job may be - small repairs to complete replacements - Above It All Roofing has got you covered!
What type of materials do you use for roofing services?
We use high-quality asphalt, metal roofing, flat roofs, wood shingles, slate, clay tiles, and more. We can also work with specific materials requested by the customer.
We are the perfect solution to all your roofing needs!
Let us take the weight off your shoulders. Our experienced professionals have been trained in working on all types of roofs, and use quality materials that will keep your property safe and provide warranties for durability under various weather conditions – saving you time and money in the long run!
We are thrilled to share our completed roofing projects with you through high-quality images that showcase different roofing systems and parts of the roof. Our portfolio provides a visual representation of our work, highlighting the exceptional quality and attention to detail that we bring to every project. We hope our portfolio will inspire you and demonstrate our capabilities in roofing.
What Oakville Homeowners Say
I am very happy with the quality of service they provide. Kristian came over right away to inspect my roof and answered all of the questions I had.

We are very pleased with ABOVE IT ALL ROOFING in all the following ways, the people, the very professional estimate, the materials, the very professional and tidy replacement job, the attention paid to detail, and the final product. There were many competitors, but these folks, after much checking were clearly also above their competitors. We would recommend the company, the installers, and the Owner Kristian, without hesitation. The service was superb.Paul Stearns

After meeting with multiple vendors, we found Christian to be the most thorough when educating us about the materials and the roofing process. We were shown the products up close and saw the quality with our own eyes.When it comes to installation, safety and cleanliness were not forgotten. We have had multiples neighbour's complimenting how beautiful the roof looked after the job was completed. As the ultimately test, there's was a thunderstorm on the following weekend after completion and the roof held up fine.We are very glad to have chosen Christian for this project and would highly recommend his services to anyone needing a roof replacement. In fact, our next door neighbour is having his roof done by him as well.

Quality of the products, Quality of the service, Expertise of all the workers involved. TOP NOTCH. Professionalism, pride in the quality of the work is obvious. They are truly above it all.

Highly recommend! Very professional and hard working group. We love our roof and receive many compliments from our neighbors.

Above It All Roofing did a great job from start to finish

I had to have my roof replaced due to a bad wind storm in the late fall of 2020. I found Kristian fair and reasonable and very professional. Quoted a fair price and was highly knowledgeable of the options he offered.

Amazing quality! Kristian took the time to educate us about roofing and options, helping us to make the best choices for our home. He was the only supplier we talked to who suggested adding additional vents to the roof, which significantly improved the heat that usually builds in our upper floor in summer. The work was quality, on time, and meticulous. A 50-year warrantee, transferrable to new owners, is best in industry. I recommend Kristian and Above It All roofing to all my neighbours and friends!

Quality, Quality, Quality!! From the professional presentation and full dossier provided during the quotation to the clean tear off, plywood roof repair, increasing ventilation in the attic through to an impeccable installation of a high quality roofing system. Kristian and the Above It All Roofing team were 5 stars from end to end. I wouldn't consider anyone else for a roof. And a 50 year warranty on the roof is the best on the market. This is the company you want doing your roof in Halton Hills.

The work done by Kris and his team is amazing! Kris took his time with helping me understand the different deals and which is best and any questions I had he would answer. He went into detail about the different types of shingles and why he uses certainteed. Kris and his team are very professional with their work, they let me know what they finished doing at the end of the day and what is left for them to be done. He is very detailed, even a few of my neighbors came up to me saying that his work is really good and he fulfilled everything he promised.

Highly recommend Above It All Roofing. Excellent experience from socially distant zoom call to discuss options and pricing to install and cleanup. The crew was extremely professional and courteous. Showed up on time and did excellent work.

Thank you for your help on our project. Amazing job.

Work was great – the team was very professional and friendly. Kristian was very organized and great at communicating updates and timelines. I went to them asking for a quote on a metal roof and he actually took the time to talk to me about all of the options that were available to me for my specific scenario so I could make an informed decision and saved me a lot of money. I had a raccoon issue after the roof was installed and he showed up next day (on a Saturday morning) to fix it… I can't say enough good things about these guys. HIGHLY recommend for quality of work and peace of mind.

The best roofing company who does it the right way.

Job quoted and complete by Kristian and his crew in 2018. Superb job and professional finish . He even went above and beyond to address my baffle venting issues to prevent premature wear of shingles. No shortcuts on cheaping out on lower quality materials, and decent pricing. Roof looks great. Call him for a quote, and I'm confident you won't be disappointed!

We had our roof replaced recently by Kristian and his team and it looks fantastic. Kristian is very professional and experienced, and he stands by the quality of his work. It took 2 days to complete the job and they always clean up at the end of each day. Since Kristian is the owner and he only works with one crew, he does make sure that the job is done properly to our satisfactions. He even returned after the job is done to double check everything and provided some recommendations on ways to improve our house which I really appreciate. Overall I have a great experience and would recommend my friends and neighbours to use Above It All Roofing.

Kristian and his team has done an excellent work on our roof. In addition to replacing our roof he also gave us details on the structure of my roof as well as any shortcoming with recommendations. I am happy to have chosen Above it all roofing to make this roof investment.

Had roof recently replaced, very pleased with the product as well as the timely and efficient manner the job was completed.

Good choice. The quality service and price very well correlated. Professionalism and promptitude are things to consider when dealing with a roofing company. Job well done and follow up with the owner after completion to ensure everything was done as per the quote. Property clean after completion. I would recommend them to all my friends and neighbors.

I was extremely satisfied with both quality of work as well as your attention to customer satisfaction. I will highly recommend you.Tadeusz PozniakGeorgetown

I was very happy with the job. The job was very organized and they took great care of my property. I have an amazing warranty and my roof looks great. I will highly recommend.

We had an excellent experience with Above It all Roofing. The principal Kristian is extremely professional all the way through, his quote is thorough and easy to understand, he is hands on through the whole job, he sells a quality product and our new roof looks great! His team are good and they treated our property with care, clean up was very good and most important, they did the job when and to the level they said they would. We will highly recommend him and his company to our friends and family and you the reader!!

Work was of high quality. Very detailed oriented. They took care of my property very well. I am very happy and strongly recommend them for any kind of roofing job.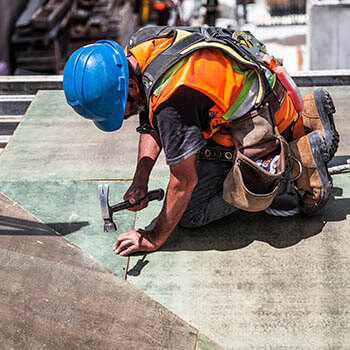 It was a cool autumn day when I first noticed the water stain on my living room ceiling. That seemingly...
Don't Know What To Start With?
Get A Solutions For All Roofing Services